WHO convenes 100 road safety agency heads to advance SDG targets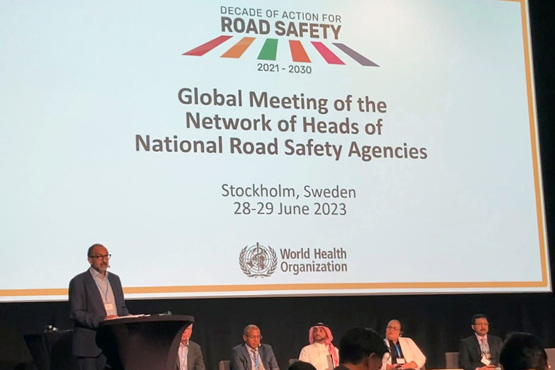 Heads of National Road Safety Agencies from around 100 countries came together for the first time for a global road safety summit to tackle the scourge of road crash deaths and injuries worldwide, with support from the FIA Foundation.
The first in-person meeting of the new, World Health Organization-facilitated Global Network of Heads of Road Safety Agencies aimed to spur, aid and assess actions to meet the global goal of halving road crash deaths and injuries by 2030 that is set out in the Sustainable Development Goals (SDGs) and the United Nations Decade of Action for Road Safety 2021-2030. The FIA Foundation played a key role in the meeting. Executive Director Saul Billingsley moderated a session on national financing of road safety with agency heads from Costa Rica, India, Morocco, Saudi Arabia and Sweden. North America Director Natalie Draisin provided an inspirational summing up at the concluding session of the two-day meeting, while Senior Advisor Bella Dinh Zarr introduced a session on community action. Our partner organisations iRAP and Global NCAP also provided presentations in a session on practical implementation of the safe system.
'We must seize the moment of this landmark summit to lock-in life-saving national road safety strategies and action plans. National road safety agencies design and direct countries' road safety plans. They must set clear, measurable goals that are rooted in evidence and are backed up by strong policies, laws, regulations and inclusive coordination,' said Dr Etienne Krug, Director of the Department of the Social Determinants of Health at WHO. Dr Krug also announced that the fourth Global Ministerial Conference on Road Safety will be hosted by Morocco in Marrakesh on 18-19 February 2025.
Held following the Vision Zero Conference on Road Safety hosted by the Swedish government in Stockholm, the meeting on June 28-29 aimed to help countries share knowledge and experience around the role of national road safety agencies in strategic planning, setting roles and responsibilities, coordinating across sectors, financing and monitoring and evaluating their national road safety plans.
The Global Plan for the UN Decade of Action for Road Safety 2021-2030 offers a blueprint for policy makers to create national and local road safety plans. It calls for a new vision for mobility that puts safety first, adopts a holistic and systems-focused approach, and ensures that all stakeholders meet their responsibilities.
'We must urgently move from an old model of drab, dirty and dangerous streets built for cars, to safe, green and vibrant spaces designed and built for people. Mobility underpins so many other aspects of public health and development. By making walking and cycling safe, we can reduce air pollution and fight climate change. By prioritizing the safety of vulnerable road users like pedestrians and cyclists, we can reduce poverty and tackle inequalities, including access to jobs, schools and gender equality,' said Dr Nhan Tran, Head of Safety and Mobility at WHO.
Launched following the United Nations High-Level Political Declaration on Global Road Safety in June 2022, the Global Network of Heads of Road Safety Agencies aids governments and partners in establishing the policies, coordination systems and actions to ensure safe mobility. It fosters collaboration and learning, provides technical support, and monitors progress against the Global Plan for the United Nations Decade of Action for Road Safety 2021-2030. As the lead United Nations agency for road safety, WHO facilitates the Global Network.
"To get close to delivering the ambitious SDG targets for 2030 we need to see governments prioritising highly practical interventions, such as speed management, right now", said Saul Billingsley, Executive Director of the FIA Foundation. "Lower speed in urban and rural areas where vehicles mix with pedestrians and cyclists is the best way to quickly reduce casualties and set the conditions for a more sustainable transport future. This meeting has been an important opportunity to share practice and galvanise action."