Spotlight on adolescent agenda at India G20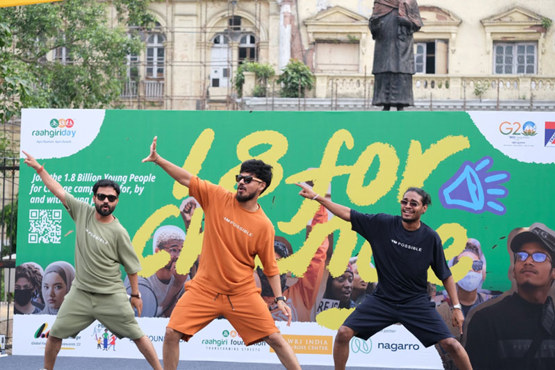 Governments, donors, international organisations and young leaders have given support to the '1.8 Billion for Change' advocacy campaign in a series of G20 events in India.
India's G20 Presidency hosted the global alliance for women's children's and adolescent health ('PMNCH') from 18-22 June in Delhi placing the spotlight on the adolescent and youth SDG agenda. The FIA Foundation is a leading partner in the initiative which is building momentum towards the Heads of State UN SDG Summit in September and the Global Forum for Adolescents which follows it.
The week of advocacy started with a 'Raahgiri' G20 street campaign event led by the FIA Foundation with support from the PMNCH and a range of partners. The need for action on road traffic injury as the leading global killer of young people was a major focus of this event, together with a strong message to rethink mobility and our cities for the next generation.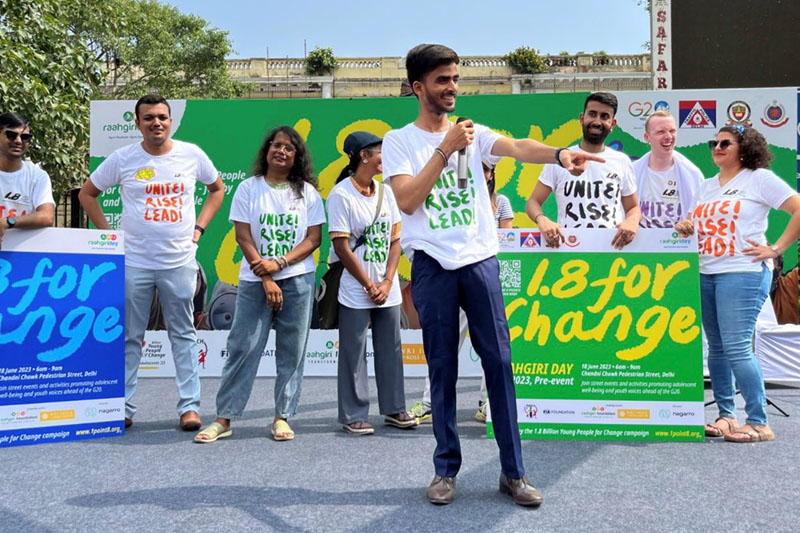 The Raahgiri event brought together young road safety activists from India, members of the Global Youth Coalition for Road Safety, alongside young campaigners on issues such as sexual reproductive health and rights, action on gender based violence, and youth empowerment.
Several thousand people participated in the event held at Chandni Chowk opposite the Red Fort in central Delhi. The event was co-organised by the Raahgiri Foundation and FIA Foundation together with WRI India as a supporting partner. Raahgiri events regularly take place in Delhi where streets are closed to traffic and given back to the community.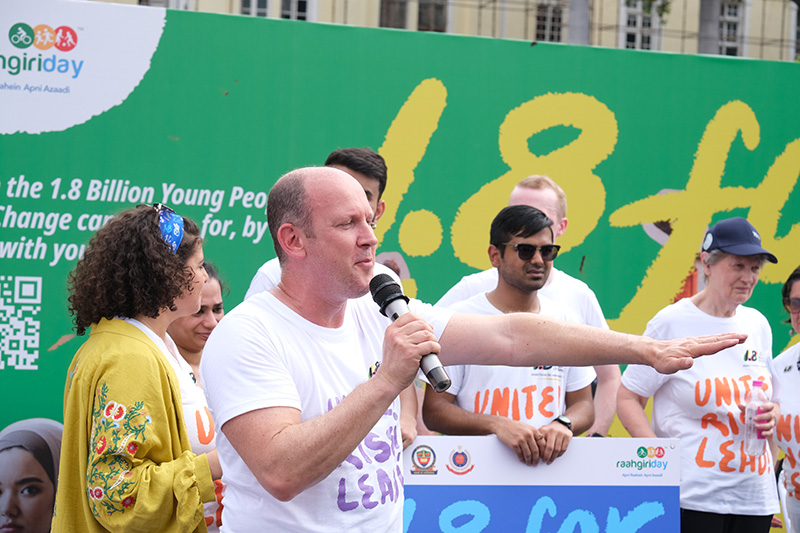 Youth leaders were at the forefront of the event. Deepanshu Gupta is the India representative of the Global Youth Coalition for Road safety Leadership Board. He said: "I urge leaders to support, protect and empower young people. Listen to us and take action so together we can bring about change." He was joined by youth leaders from Africa, Europe, Latin America and Asia in advocacy for the 1.8 Billion campaign.
The 1.8 Billion campaign is a global call for action leading up to both the SDG Summit and Global Forum for Adolescents. Action areas include: education and skills; the need for safe and supportive environments – which include priorities such as road safety and ending violence; good health – including mental health and sexual reproductive health and rights; participation and empowerment in decision making. The campaign is reaching out to over a million young people, conveying their messages on priorities for action to leaders. It is also supporting the mobilisation of SDG commitments on youth priorities.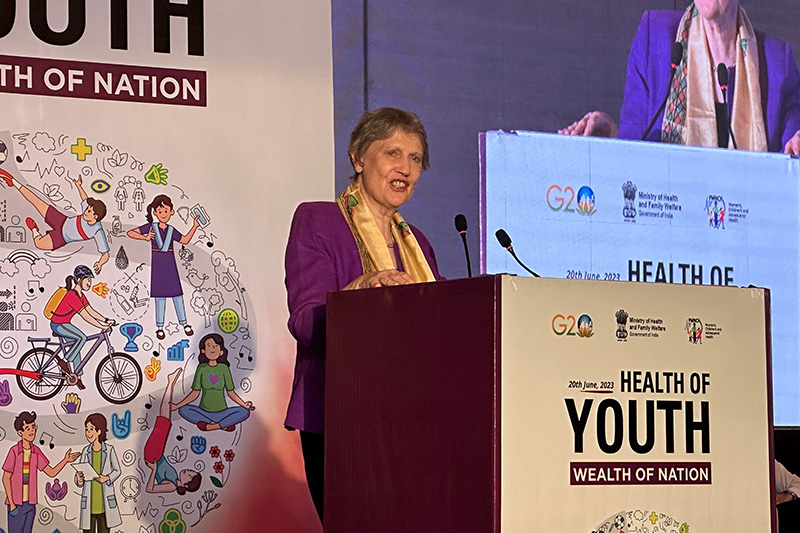 The Raahgiri was followed by a 'G20 Townhall' led by the Government of India, G20 Governments, UN agencies and youth representatives. The townhall was an opportunity for policy makers and young people to focus on the priority issues that must be addressed in upcoming political processes, the SDG Summit and Global Forum for Adolescents.
Opening the G20 event, Helen Clark, former Prime Minister of New Zealand and Board Chair of PMNCH said: "We want to see this great generation of adolescents and youth getting the support to thrive that it needs and wants.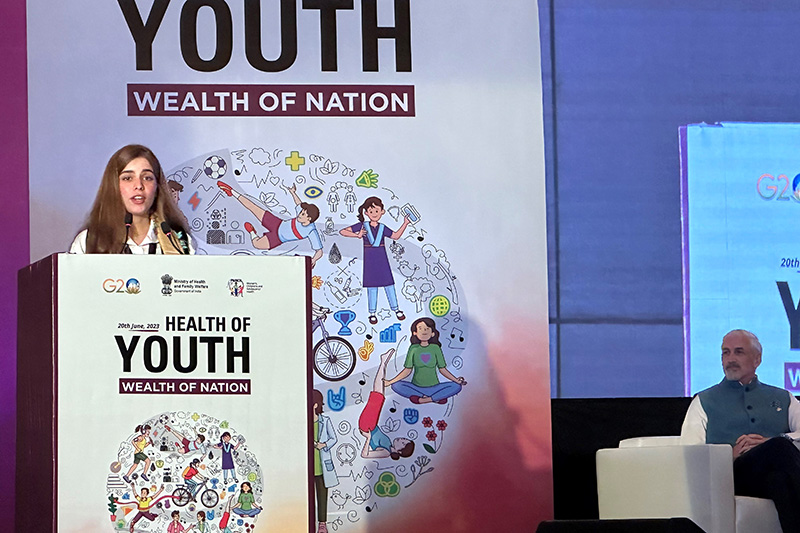 "But we know that this great population is facing quite a lot of challenges and there are not challenges of their own making. We are seeing young people dying from preventable causes. From consultations here in India, road crashes have been identified as a significant issue, and this is a significant issue in many countries and the top cause of death for adolescent boys. Our call to the G20 would be: come on board with us, you can make a real difference."
Avi Silverman, FIA Foundation Deputy Director said: "As highlighted by this G20 advocacy, there is an urgent and pressing need for action on youth priorities. Road traffic injury is among the major issues facing young people – and these issues need far more attention so that we can truly unlock the demographic dividend and make progress on development objectives. Young people have delivered a powerful call to action, leaders must take note and act."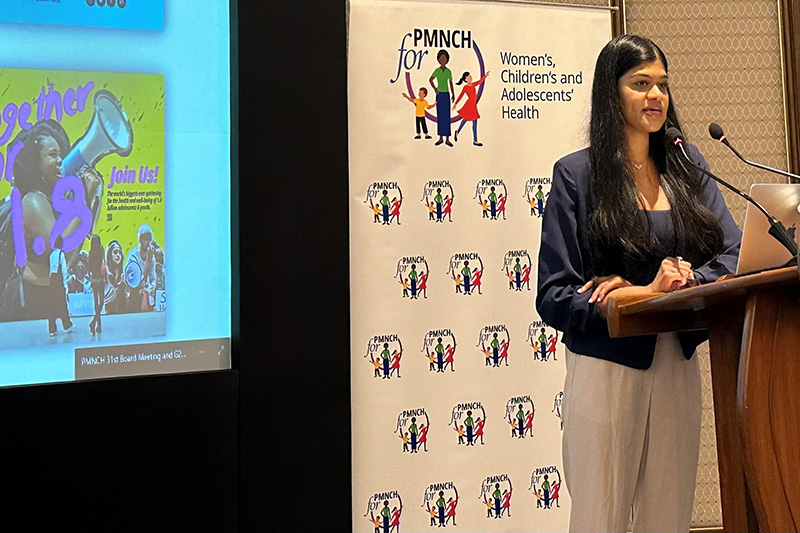 Alongside leading international organisations, donors and civil society including the Gates Foundation, Fondation Botnar, UNICEF, UNFPA, WHO, FCDO, Plan International and Amref, the FIA Foundation also took part in PMNCH Board meetings co-led with the Government of India to plan the next steps of the adolescent agenda.