New student motorcycle road safety campaign launches across London with FIA Foundation support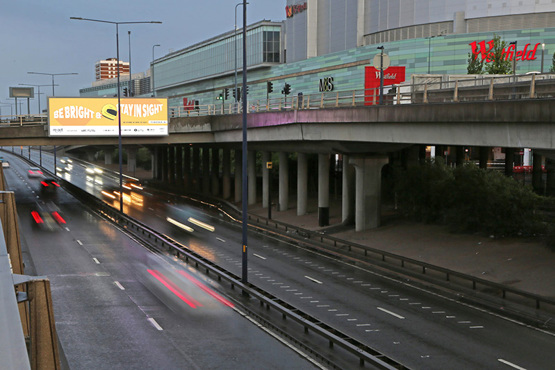 A road safety campaign created by a University of the Arts London (UAL) student is featuring on prominent London billboards seen by more than 5 million road users in an initiative supported by FIA Foundation, alongside Transport for London, Zurich Insurance and Ocean Outdoors.
The ''Be Bright and Stay In Sight' road safety campaign was created by UAL student Beatriz Coelho for the 2022 Re:act behavioural change programme, which challenges university design students to create a campaign to raise awareness among younger road users of a critical road safety issue. The campaign, targeted at young motorcyclists who are disproportionally injured on London's roads, is expected to be seen by over 5 million road users across the capital on the retail and roadside assets the programme's media partner, Ocean Outdoor.
"It has been great to work on a project with the potential for such positive impact," Beatriz Coelho said. "I hope that this campaign does make a beneficial change in road safety."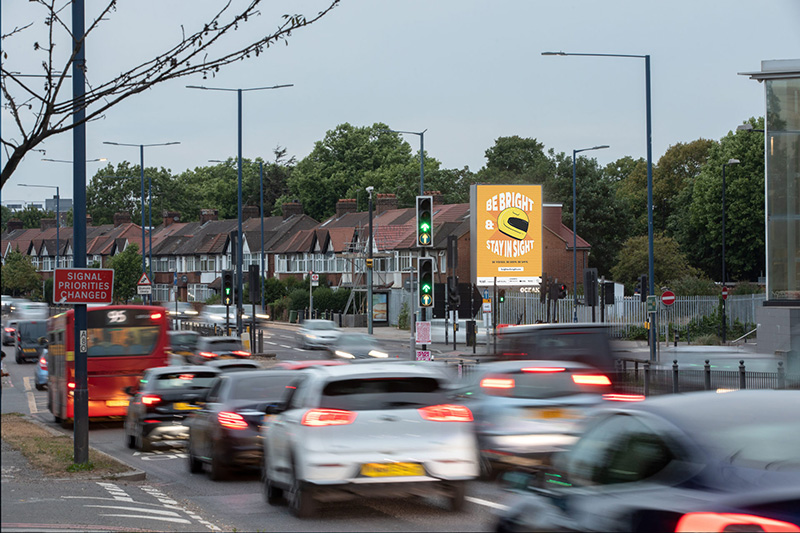 "Importantly, the selected campaign sends a strong message that by working together we can all help reduce the disproportionately high road toll among 18 to 25-year-old motorcyclists, raising awareness among motorcyclists to wear bright clothing and position their motorcycles so they can be easily seen while encouraging other road users to also watch for motorcyclists," Re:act Founder and CEO Andrew Hardwick said. "The selected campaign for 2022 also once again shows what can be achieved when young people are given a voice in road safety, with the simplicity of Beatriz's direct message and strong graphic helping to address a major road safety risk for her own age group."
Kate Turner, Media Manager of the FIA Foundation said: "The FIA Foundation is very pleased to support the Re:act program, which has engaged a creative cohort of students at UAL to consider motorcycle safety in the capital. Motorcyclists lack the physical protection of other motorised vehicle users, making them, like cyclists and pedestrians, vulnerable in road crashes. Finding ways to stay visible during the day and at night, alongside measures like low speeds, makes everybody safer on the road."
"Zurich Resilience Solutions is proud to support Re:act and their outstanding efforts to improve road safety for all," added Adam Canton, Senior Motor Risk Consultant – Workforce Strategies Practice. "Beatriz has produced an engaging campaign using striking colours and graphics and has clearly conveyed the key messages on this important road safety topic. We are excited to see the billboards on display."