New report 'Breaking barriers: promoting cycling among women in Nairobi' launched with the support of FIA Foundation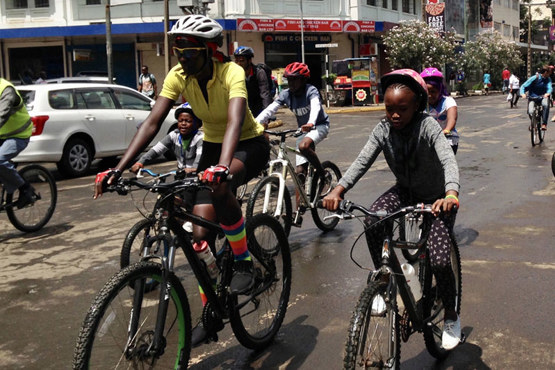 A new report examining how gender impacts cycling uptake in Nairobi, Kenya and outlining key measures to encourage women to cycle has been launched by the NGO Flone Initiative, supported by the FIA Foundation.
The report, 'Breaking barriers: promoting cycling among women in Nairobi,' is the outcome of a study undertaken by Flone, which sought to establish the level of women's cycling in the city; identify barriers and motivations for women's uptake of that mode; and provide key recommendations to increase women's cycling. Whilst Nairobi City County has accelerated its investments in non-motorised transport to encourage sustainable mobility, however, investments, particularly in cycling, have not translated into increased use of bicycles by women. Currently, just 1% of all daily journeys in the county are made by bicycle, of which a mere 3.1% are made by women. The majority of respondents (81%) reported cycling solely for leisure while the rest reported cycling either for specific tasks (like commuting or shopping) or a mix of the two.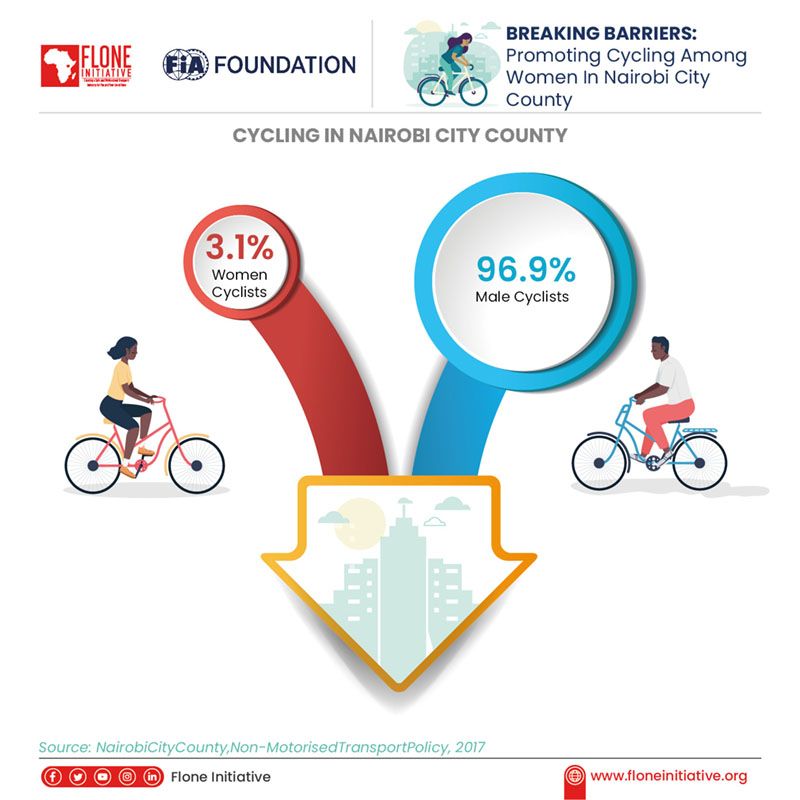 The key findings include that the uptake of cycling among women in Nairobi is low due to barriers such as: negative socio-cultural perceptions of female cyclists; road safety risks; a lack of security; limited cycling skills; and limited provision of cycling infrastructure.
One participant in the survey told us: "Cycle tracks end in abrupt curves, and you must dismount and carry your bike around the curve. There are cycle tracks that are paved with rough blocks, making it uncomfortable. Some have good cycle tracks, but cyclists feel unsafe when they meet the intersections."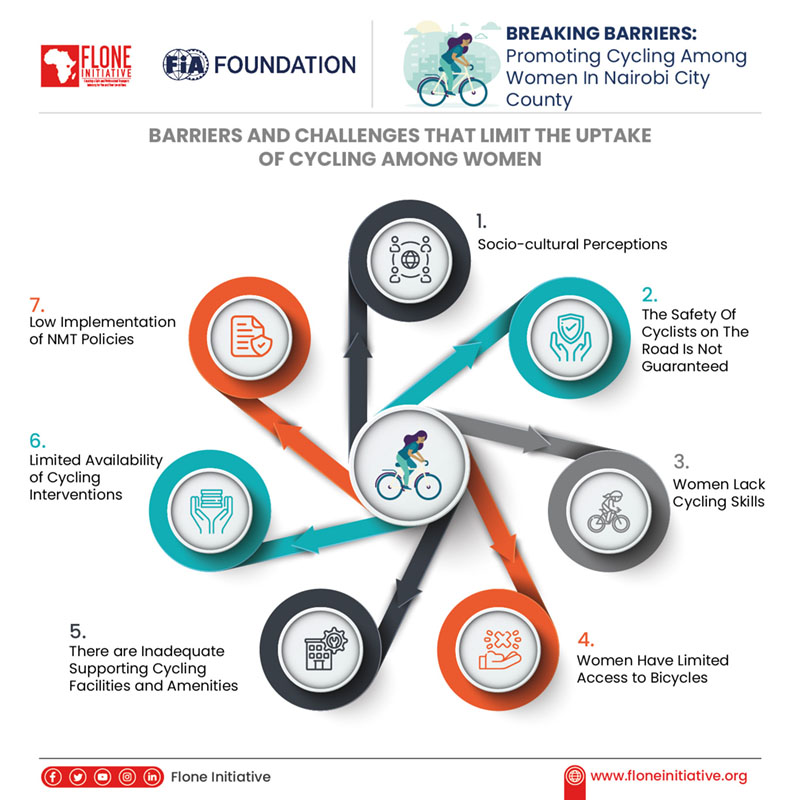 Recommendations which target transport authorities and policymakers, development partners, academia and civil society organisations include the need to raise public awareness, enhancing safety and security on roads, and promoting access to cycling opportunities. More specifically they include:
Breaking socio-cultural barriers - sustained public awareness programmes should be carried out to challenge bias in order to normalise cycling for women and to market cycling as an alternative and sustainable mode of transport.
Sexual and physical harassment – there needs to be a focus on digital mapping and surveillance, infrastructure changes to improve visibility and comprehensive reporting systems.
Safer roads – Safety audits to identify key risk areas, the urgent delivery of segregated cycle lanes on strategic routes, and low-speed infrastructure, all supported with robust education, awareness and enforcement are essential. A number of these interventions are already featured in the County's NMT strategy, however, measures need comprehensive investment and action to have meaningful impact.
More cycling opportunities – access to more trainings and affordable cycling equipment.
The research included qualitative and quantitative methods, asking women to share lived experiences and perceptions of cycling and key informant interviews, as well as data-driven research.
Sheila Watson, Deputy Director of the FIA Foundation, said: "Understanding how women experience and view their transport options is essential to build sustainable, zero-carbon transport systems. If policymakers aren't listening to the challenges women face when accessing low and zero-carbon transport then they risk falling behind in our shared climate goals. This report highlights clear and simple measures to address the social, physical, and access barriers to bring us to a more just transition which will benefit not just women, but everyone."
Read the report here