Global NCAP car-to-car test demonstrates global vehicle safety double standard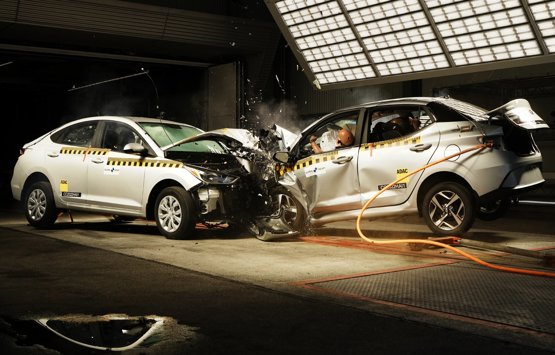 New Global NCAP car-to-car crash test results, supported by the FIA Foundation, is demonstrating the double standards that apply to vehicle safety across national borders ahead of the first UN General Assembly High Level meeting on Road Safety.
An Hyundai Grand i10 sedan sold in Mexico has been crashed into a comparable Hyundai Accent sold in the US. Both models are the cheapest sedans from the manufacturer that consumers can buy in their respective markets.*
The Hyundai Accent produced for the US market offers 6 airbags and Electronic Stability Control (ESC) as standard. However, the i10 model produced for Mexico and other Latin American markets is fitted with only two frontal airbags.
The protection the Accent offered to its driver during the crash test was good and the model showed a stable structure. The Grand i10 however showed an unstable structure and poor protection to the driver with a high probability of life-threatening injuries. The Hyundai sold in Mexico would be rated as a zero star car by Latin NCAP.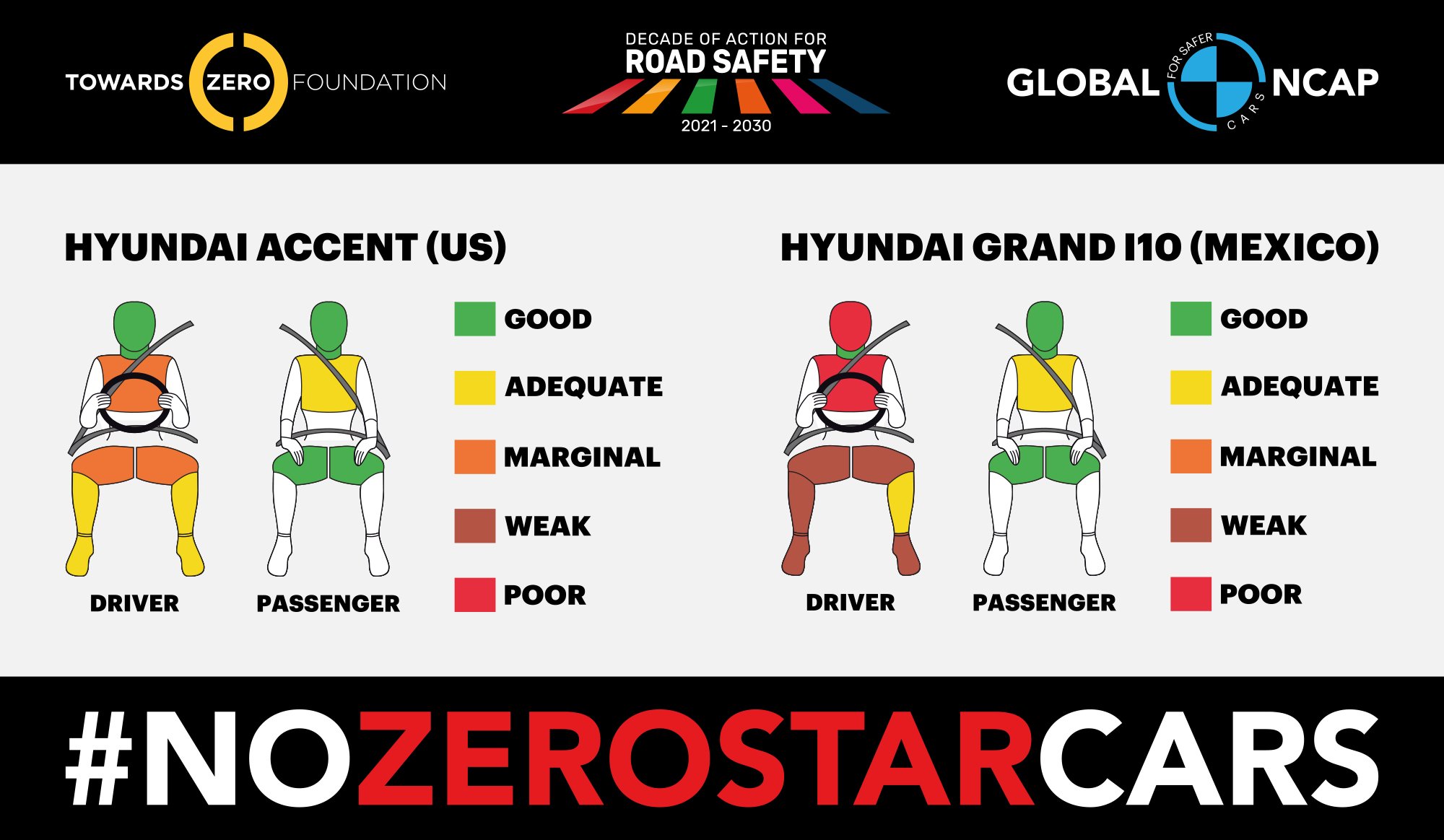 Stephan Brodziak, Latin NCAP Chairman said: "It hurts to witness once again the terrible double standard with which part of the car industry operates in Latin American and Caribbean countries. This inevitably forces us to think about the suffering that these cars, built under this scheme, end up causing to our families, societies and economies.
In addition, it reveals the great pending task in order to make the Latin American car market mature: the absence of a vehicle safety label. A safety label in all new cars can alert consumers about the risks of low-safety cars and allows the market to move to a commercial logic, turning the car industry, established in our region, into a competition for the safety performance offered that goes beyond the regulatory framework of a country."
Saul Billingsley, FIA Foundation Executive Director, said: "Hyundai's corporate website claims that they are 'here to do the right thing for humanity'. They should start by treating all humans as equal, and providing the same safety performance in all the products they sell, everywhere. This shocking demonstration shows the company's utter contempt for their Mexican customers. Seven years in to the Sustainable Development Goals it is unacceptable that companies can still pose as protectors of humanity while selling cars that main and kill."
David Ward, Towards Zero Foundation Executive President said: "It is very disappointing to see such a difference in vehicle safety between Mexico & the USA. A major reason has been relentless lobbying by the Mexican car makers association to delay the application of minimum UN vehicle safety standards. This has happened first for front & side crash tests and electronic stability control and now again for pedestrian protection.
Double standards in vehicle safety are too often the 'stock-in-trade' of auto industry associations. And that is why this week's UN High Level Meeting in New York needs to send a clear message to the auto industry to stop their delaying tactics & apply the most important vehicle safety regulations worldwide."