Fire service equipment convoy to Ukraine supported by FIA Foundation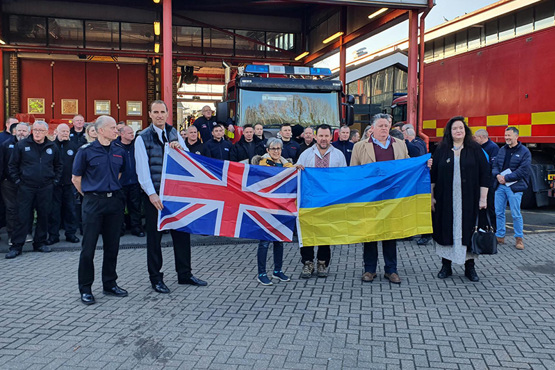 An emergency convoy of donated fire engines and lifesaving equipment to Ukraine has been organised by UK charity FIRE AID, supported by the FIA Foundation.
The convoy, made up of 21 vehicles and more than 5,000 items of kit and equipment donated by UK fire and rescue services, is manned by 60 FIRE AID and fire and rescue service volunteers. The convoy travelled to Poland from where equipment will be distributed into Ukraine, providing vitally needed equipment to support firefighters, emergency services and volunteers on the frontline. Emergency services, which often use old or worn equipment, will use the donations to meet the fire and rescue challenges as the invasion continues to devastate the country.
Coordinated by UK charity, FIRE AID and International Development (FIRE AID), the National Fire Chiefs
Council (NFCC), and the fire industry through the Fire Industry Association, the 21-strong vehicle convoy includes 15 fire engines, an incident response unit, a hydraulic rescue platform, mechanical support for the journey, and two lorries containing equipment such as thermal imaging cameras, generators, lighting, hoses, and thousands of sets of PPE.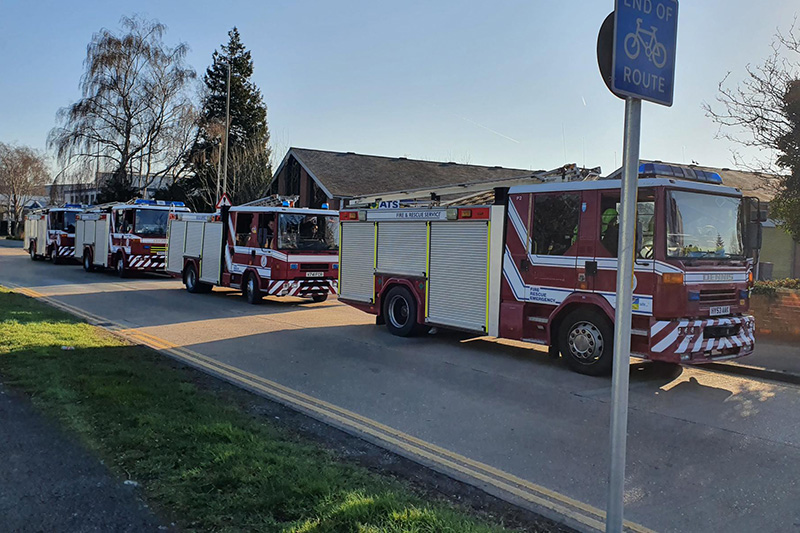 The deployment of the donations is being supported by funding from the UK Home Office, Foreign, Commonwealth & Development Office, and the FIA Foundation and through a public appeal via JustGiving.
The wider fire sector – including the MSA Safety, Fire Sector Federation, the Fire and Rescue Suppliers Council and the Fire Industry Association – are also key partners in supporting and making the deployment.
Saul Billingsley, Executive Director of the FIA Foundation, said, "The FIA Foundation is proud to support FIRE AID's convoy to deliver fire safety equipment to Ukraine, in a collaborative mission by UK fire services, NGOs and Government to assist the people of Ukraine. Our foundation has longstanding links with Ukrainian road safety NGOs and with the life-saving work of FIRE AID. Through this humanitarian aid we express our solidarity with the people of Ukraine as they fight for their lives and their freedom."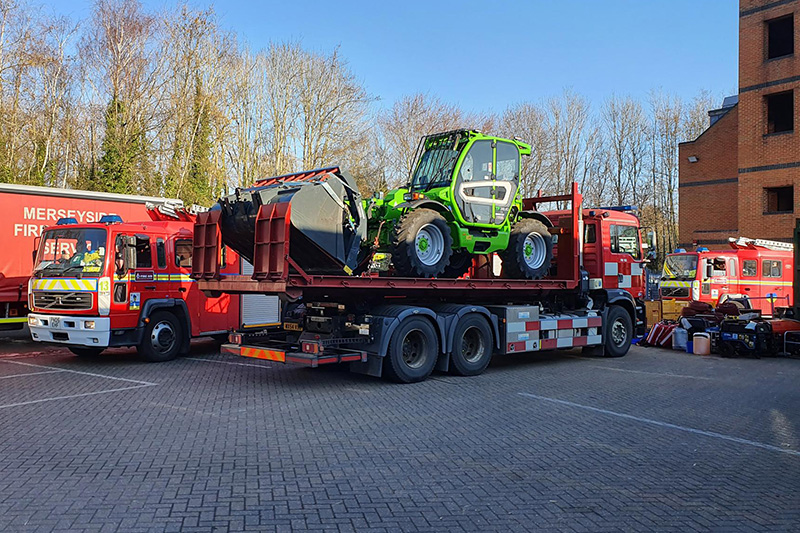 UK Home Secretary, Priti Patel, said: "The British Government and British people are standing shoulder to shoulder with Ukraine and its citizens during this barbaric invasion. I have been speaking regularly to my counterpart at Ukraine's Interior Ministry and the Ukrainian Ambassador in London to understand what practical help we can offer. We are helping to ensure that crucial fire and rescue equipment and PPE donated by Fire and Rescue Services will get to where it can directly provide succour to those brave firefighters, emergency services and volunteers on the front line in Ukraine."
Chair of the National Fire Chiefs Council Mark Hardingham added: "As the terrible scenes unfold in Ukraine, the UK fire and rescue service is once again doing all it can to support those who urgently need help. The response has been incredible and it is testament to the public, private and voluntary sectors combining resources, enthusiasm and skills in response to the crisis. Thousands of items of kit and equipment - along with fire engines - have been donated to help the Ukrainian emergency services, battling together on the front line as they strive to save lives and protect people and property.
"I cannot express how proud I am of everyone who has come together to support this; from getting the equipment together, the hard work which has gone into ensuring the logistics of one of the largest convoys we have seen, to volunteering to be part of the journey itself. This is our sector at its very best - selflessly working together and supporting one other - ultimately helping and hoping to save lives."