Fiat and Ram fail to deliver in latest Latin NCAP testing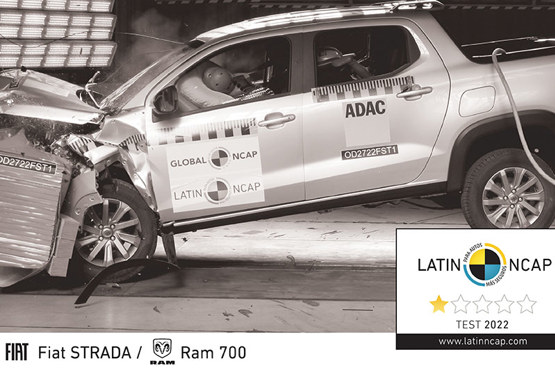 One of the most popular Latin American car models by carmaker Stellantis, alternately branded as the Fiat Strada and the Ram 700, received a disappointing one star rating in the latest testing of the New Car Assessment Programme for Latin America and the Caribbean (Latin NCAP). The independent consumer crash test initiative is supported by the FIA Foundation.
The Fiat Strada/Ram 700, produced in Brazil, achieved single star ratings for both its single cab and double cab design. An unstable structure, poor performing side airbags, low whiplash protection and a lack of safety assistance systems were all cited as reasons for the poor performance. The single cab version achieved just a 22.08% rating in Child Occupant protection. Side airbags, which were only standard in the double cabin version, failed to deploy correctly and offered little protection. Latin NCAP highlighted that the presence of safety equipment alone does not mean the measure will perform correctly or deliver adequate protection, a problem noted in other testing of models like the Renault Sandero/Logan/Stepway.
Latin NCAP has asked the car manufacturer if there are any plans to improve the model and solve any particular issue. Fiat and Ram, from Stellantis, still have not formally replied to Latin NCAP's questions.

Alejandro Furas, Secretary General of Latin NCAP said: "Fiat (FCA) once again disappoints with this poor result after the appallingly low performance of the Argo/Cronos from last year. These two models are among the most popular in the region. It is a concern that global parts-suppliers are still offering restraint systems without the robustness expected in Latin America for the tested scenarios of Latin NCAP, unlike what they do in other markets like Europe, US and Australia. Stellantis, together with GM and Volkswagen is one of the three car manufacturers that has a crash test facility in the region. While GM and Volkswagen have already steered towards safer cars aiming to 5 star results, Fiat (FCA) has not reached more than one star in the current protocols. Vehicle safety labelling including the Latin NCAP star rating is an effective solution to these market issues aiming to have independently informed consumers choosing safer cars and car manufacturers voluntarily improving their models".
Saul Billingsley, Executive Director of the FIA Foundation, said: "Once again, Latin NCAP highlights the blatant disregard for life by some car manufacturers. It is shocking that Stellantis has access to crash test facilities in the region, yet continues to sell unfit cars to the public. Independent testing from NCAP is helping consumers make informed and lifesaving decisions."