FIA Foundation partners sign MOU for safer road collaboration in Costa Rica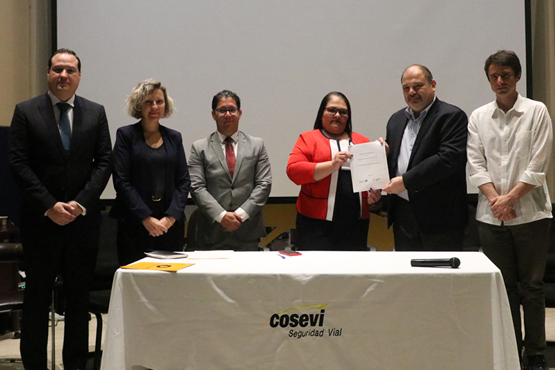 The Road Safety Council of Costa Rica (COSEVI) and International Road Assessment Programme (iRAP) have signed a Memorandum of Understanding (MOU) to promote programmes and projects to eliminate high-risk roads in Costa Rica, supported by the FIA Foundation.
According to iRAP's Safety Insights Explorer, more than 810 people are killed and 22,330 people are seriously injured each year due to road crashes in Costa Rica at a cost of USD$2.3 billion. The Costa Rican government has announced its commitment to reducing deaths and injuries caused by road traffic crashes, as well as the development of safe and accessible transport infrastructure and systems, paying special attention to the needs of vulnerable road users.
The MOU was signed during the Promoting Safe and Sustainable Urban Mobility in Latin America event of Costa Rica and Mexico, hosted by COSEVI, with the participation of the Institute for Transportation and Development Policy (ITDP), FIA Foundation and the Automobile Club of Costa Rica (ACCR). The FIA Foundation is a long-term supporter of iRAP's work and is supporting a new road safety partnership between COSEVI, ITDP and ACCR. The MOU sets out the intention for a two-year joint cooperation which will include institutional capacity building for iRAP assessments of Costa Rican roads and the development of Safer Road Investment Plans to inform strategic investment to eliminate high-risk road sections.
Improvement of the Road Safety Observatory's systems and databases through the use of geo-referenced information on road safety will be a focus, as well as an emphasis on collaboration with road safety partners in the region to harness the enormous potential of a multi-sector approach to improving safety.
Roy Rojas, COSEVI Project Director celebrated the signing of the MOU saying: "COSEVI adds iRAP as one more component of our comprehensive efforts to save lives in Costa Rica. We believe that the iRAP methodology will be a highly valuable tool to explain risk factors associated with the country's infrastructure. Costa Rica thanks iRAP for the opportunity to join COSEVI's effort to save lives."
iRAP Safer Journeys Regional Leader for the Americas, Edgar Zamora, who was present at the MOU signing said, "iRAP is proud to partner with COSEVI to improve road safety in Costa Rica. Eliminating high-risk roads is critical to saving lives, particularly of vulnerable road users, and reducing the preventable economic and social burden caused by road crashes."
Aggie Krasnolucka, Programmes Director of the FIA Foundation said "It is so important to see partners connecting their road safety expertise with government agendas. Partner-led iRAP activity has already assessed 4,383 km of roads and designs in Costa Rica influencing the safety of US$388 million of road infrastructure investment." 
Costa Rica was part of a large Pacific Corridor road safety assessment across 7 countries performed by the Inter-American Development Bank in 2011 and again in 2020 informing life-saving investment in safer road upgrades.
Achieving greater than 75 percent of travel on 3-star or better roads in Costa Rica by 2030 stands to save nearly 60,000 fatalities and serious injuries over the 20-year life of road treatments with an economic benefit of USD$11.2 billion, nearly $9 for every $1 spent.