FIA Foundation a 'first mover' in US National Roadway Safety Strategy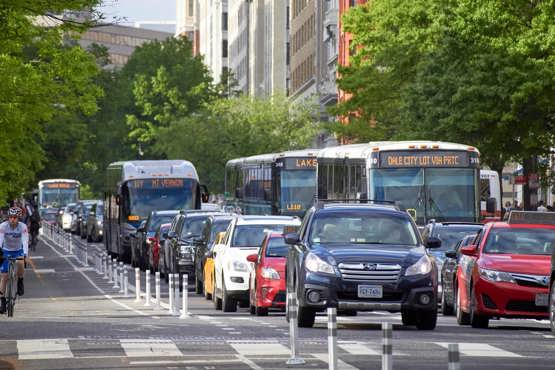 The United States is making headway in its commitment to embed safe systems into road design to save lives and prevent injuries with initiatives supported by the FIA Foundation.
US Secretary of Transportation, Pete Buttigieg, introduced the National Roadway Safety Strategy to support the goal of zero deaths and serious injuries on the nation's roadways, funded by the Bipartisan Infrastructure Law.
The FIA Foundation has become a First Mover as part of the Commit to Act campaign in support of the National Roadway Safety Strategy, alongside its first anniversary. As a First Mover, the FIA Foundation has committed to actively promote key programs, in particular the FIA Road Safety Index and Vision Zero for Youth, to build momentum and action across the United States and abroad to make streets safe for all. The FIA's Road Safety Index is an evidence-based tool that helps scale up the safe systems approach globally and aims to elevate and improve road safety throughout the commercial market, utilizing the private sector as a catalyst. Organizations will identify opportunities to improve safety performance throughout their supply and/or value chain. Vision Zero for Youth, a joint project between the FIA Foundation and National Center for Safe Routes to School, will continue its leadership award to highlight various communities that have taken bold steps to advance youth pedestrian and bicyclist safety, including infrastructure improvements, policy changes, and youth engagement. Press releases, social media, award ceremonies, media coverage, and conference/webinar presentations will help highlight and disseminate good practices in prioritizing road safety for young pedestrians and bicyclists. The FIA Foundation also supports the call for other organizations working across the United States to add their names to the Commit To Act campaign and share their lifesaving work.
Minority and marginalized groups are particularly at risk of being killed on US roads. To help address this historical inequity, the Safe Streets and Roads for All (SS4A) program is delivering USD 5 billion in grants to regional, local, and Tribal initiatives in the next five years. Both the Blackfeet Nation in Montana, and the East End District in Houston, Texas have been announced as recipients of the first round of SS4A funding, receiving USD 797,000 and USD 603,000 respectively. Both applications were supported by the FIA Foundation and the Traffic Injury Research Foundation, spearheaded by Bella Dinh-Zarr, the Senior Advisor for Public Health & Transportation to the FIA Foundation and the Traffic Injury Research Foundation (TIRF), and former Vice Chairman and Acting Chairman of the US National Transportation Safety Board. TIRF, FIA Foundation, Johns Hopkins University, Roadway Safety Foundation, Park Rx America, and others will help advise recipients in implementing grants.
North America Director and United Nations Representative Natalie Draisin said: "The US has made a bold, historical commitment to achieving zero deaths on roads. With funded action, the Administration is putting its money where its mouth is. Our infrastructure has suffered from historic underfunding, and Americans have been paying the price with their lives. Minority and marginalized groups have borne the brunt of the burden. The FIA Foundation is committed to safe, equitable mobility for all, and we are pleased to be able to support meaningful knowledge sharing, advocacy and investment into safe systems action."