C3 raises concerns with zero star rating in new LATIN NCAP tests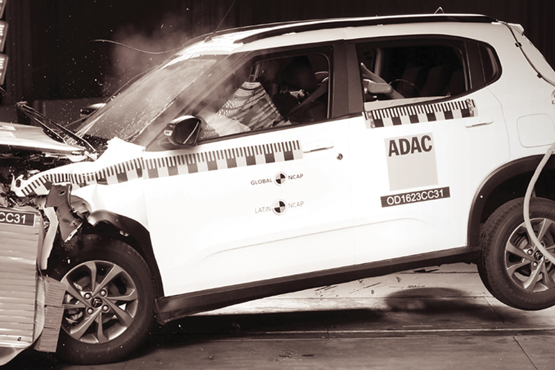 The Citroen C3, produced in Brazil, received a disappointing zero-star rating in the 2023 publication of the New Car Assessment Programme for Latin America and the Caribbean (Latin NCAP). The independent consumer crash test initiative is supported by the FIA Foundation.
The assessment revealed numerous alarming findings, including an unstable structure, inadequate frontal impact protection, absence of side head protection, and lack of seat belt reminders. The car underwent testing for frontal impact, side impact, whiplash, pedestrian protection, and ESC. The Citroen C3 comes is only available with basic safety equipment specifications of two airbags and Electronic Stability Control (ESC). Performance in the assessment was low, with scores of 30.52% in adult occupant protection, 12.10% in child occupant protection, 49.74% in pedestrian protection and vulnerable road users, and 34.88% in safety assist.
During the frontal impact test, the Citroen C3 exhibited weak driver chest protection and marginal passenger chest protection, most likely due to the absence of pretensioners. The structure of the car and the footwell area were deemed unstable and because the car lacked standard side head protection, pole impact testing could not be conducted. The assessment also revealed poor performance in whiplash protection for adult occupants. Airbag warning markings for the passenger seat do not meet Latin NCAP requirements and is also not possible to disconnect the passenger airbag. Some CRSs failed in the installation assessment. Furthermore, the Citroen C3 did not meet the Latin NCAP requirements for Seat Belt Reminders (SBR) in the front seat, and SBR was not available for the passenger side or the rear seat row.
The Citroen C3 showed nearly full protection for child occupants, although the lack of clearly marked ISOFIX anchorages for Child Restraint Systems (CRS) affected the car's dynamic points and there were failures in the installation assessment of some CRSs. The car did not meet the pedestrian protection regulations set by UN 127 or GTR 9 with pelvis protection rated as adequate to good, but leg protection was considered marginal.
In summary, the Latin NCAP assessment of the Citroen C3 highlighted several critical safety deficiencies, resulting in a zero-star rating for this model.
Saul Billingsley, Executive Director of the FIA Foundation said: "The latest assessment by Latin NCAP once again exposes the disturbing lack of regard for human life displayed by certain car manufacturers. Even after multiple dismal NCAP test results, Stellantis persists in offering unfit vehicles to the public. The independent testing conducted by NCAP plays a crucial role in empowering consumers across the region to make informed decisions that can save lives on the roads."
Alejandro Furas, Secretary General of Latin NCAP, said: "It is alarming how Stellantis repeatedly dismisses basic safety for Latin Americans and unacceptable that their vehicles aim so low in safety while they know very well how to produce affordable and much safer cars. Stellantis recently stated that "once again we reinforce our commitment to the constant evolution of safety in our products and markets models with the most severe engineering, quality and approval requirements"; with this result, added to poor performance of the Strada, 208, Cronos/Argo among others, we strongly encourage them to review these requirements that are far from what they claim and what consumers in the region deserve".
Stephan Brodziak, Latin NCAP Chairman, added: "It is shameful that Stellantis, that knows how to develop safer cars at affordable prices, have designed a car with such poor safety as the Citroen C3. A car of this nature represents an offense to the health and integrity of Latin Americans, who are equally vulnerable in crash or run-over situations as the inhabitants of those countries where Stellantis would never dare to sell a car with such low safety. As Latin American consumers we strongly call on Stellantis to stop producing cars that are a risk both for their occupants and for other road users. Vehicle safety labeling, including Latin NCAP star rating, is a key tool to have safer cars in the region. We also call on the governments of each country to incorporate this tool as soon as possible for the benefit of the population and the economy".